Automotive and Aerospace Industries
Measurement and Analysis of Die Casting Defects
Die-casting is becoming an increasingly common way to manufacture automotive components. With this spread, fast measurement and quantitative evaluation are required at casting manufacturing sites to identify defects and their causes to improve the quality and the yield rate.
In addition to causes and countermeasures for casting defects, this section introduces the latest inspection examples of die-casting using the new 4K Digital Microscope.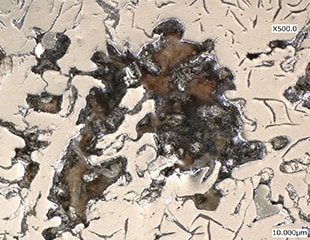 Increase in Automotive Die-Casting
Die-casting is a casting method in which molten metal such as aluminium alloy, zinc alloy, magnesium alloy, and copper alloy is poured into precision moulds under high pressure. This method is used for various products because of its ability to provide excellent dimensional accuracy, beautiful and smooth cast surfaces, and high productivity.
It is said that automotive components account for a majority of all the die-cast products manufactured.
In particular, aluminium alloy die-casting is frequently used in automotive components because it features higher electrical/thermal conductivity, corrosion resistance, and workability as well as a lighter weight and a higher strength compared to zinc alloy die-casting, thereby achieving products with low cost and high recycle efficiency.
Automotive applications include cylinder blocks, transmission cases, and rocker covers. Conventional die-cast products often contain gas, which makes heat treatment and welding difficult, so it is said that it is difficult to apply such products to automotive undercarriage and body components. In recent years, however, special die-casting methods, such as laminar flow die-casting and high-vacuum die-casting, have led to the application of die-casting in more difficult products. Along with this trend, requirements for the functionality and quality of casting have also increased.
Causes of and Countermeasures for Casting Defects
In die-casting processes for automotive components, caution is required for the temperature of molten metal and moulds, the pressure during filling into moulds, and casting defects caused by gas and air contained in metals. Casting defects will lead to lower strength and thus greatly affect the safety quality of automobiles.
Typical defects that occur inside or on the surface of casting, such as cast holes, and their causes and countermeasures are listed in the table below.
Typical casting defects

| Casting defect | Cause/state | Countermeasure |
| --- | --- | --- |
| Cast hole | A blow hole generated by entry of air or gas in molten metal or a sinkage generated due to a short supply of molten metal | Adjust the casting pressure, change the vent hole, adjust the amount of mould release agent to be applied, or change the position and size of the gate. |
| Shrinkage | Depression following slow cooling due to a partially overheated mould | Adjust the mould temperature or redesign the mould. |
| Insufficient filling (poor run of molten metal) | The area near the gate cools down too quickly to fill the entire cavity with molten metal. | Change the mould temperature, adjust the molten metal temperature, or change the position and size of the gate. |
| Cold shut (weld mark) | A low mould temperature and a low pouring pressure cause molten metal to solidify before spreading entirely in a pair of moulds, generating a mark at the joining point. | Raise the mould temperature, the molten metal temperature, and the plunger speed or change the position and size of the gate. |
| Crack/distortion | An insufficient draft angle, an uneven shrink, or an improper extrusion (hot cracking during solidification and cold cracking in cooling processes and over time) | Redesign the shape or change the extrusion position. |
| Broken chill layer | A solidification layer generated in the sleeve enters the cavity and is then contained in the die-casting. | Adjust the molten metal temperature and the plunger speed. |
| Flow mark | A low mould temperature or too much mould release agent | Raise the mould temperature and reduce the amount of mould release agent. |
| Scuffing | Die-casting adhered to a mould when being ejected or an improper draft angle | Sufficiently polish the mould surface and provide an appropriate draft angle. |
| Seizure | A partially overheated mould causes adhesion with the molten metal. | Change the type or application method of mould release agent or redesign the mould. |
| Blister | Compressed gas near the surface expands and causes swelling on the surface. | Take the same countermeasures as for cast holes and extend the mould cooling time. |
| Discolouration | The die-cast surface is discoloured by one or more mould release agent components. | Change the agent. |
| Rough surface | A rough mould surface is transferred directly to the die-cast surface. | Clean and polish the mould. |
| Hard spot | A hard foreign particle enters into the molten metal causing, for example, grinding tool breakage in later processes. | Filter the molten metal. |
In addition to those causes listed above, there are various other causes for casting defects. In die-casting, quality inspection is important to ensure quality. Accurate analysis, measurement, and evaluation are required, for example, for minute holes, cavities, and improper surface roughness because they have an impact on quality.
Latest Examples of Die-Cast Product Inspection
One of the requirements for the evaluation and defect analysis of cast holes and cast surfaces is magnified observation using microscopes. However, because die-cast products are three dimensional, such observation involves problems like the time and effort required for focus adjustment, difficulty of observation and analysis, and variations in defect evaluations.
These factors have led to an increase in magnified observation using Digital Microscopes. KEYENCE's VHX Series ultra-high-definition 4K Digital Microscope, which is fully equipped with state-of-the-art technology, makes it possible to clearly capture cast holes and cast surfaces in die-casting to enable quantitative evaluation with extremely high work efficiency.
Zoomed imaging while keeping the target fully in focus even at increased magnification
Conventional microscopes require time and effort to replace lenses, to change the magnification, and adjust the focus according to the size and location of the target for analysis.
The high-resolution lens and motorised revolver of the VHX Series 4K Digital Microscope enable a seamless zoom function that automatically changes the magnification between 20x and 6000x without lens replacement. Through intuitive operation with a mouse or a handheld controller, you can quickly complete a series of tasks all in a single unit. These tasks range from observation using fully focused high-resolution images of the entire target (using depth composition) to quantitative evaluation using automatic area measurement and 3D shape/profile measurement.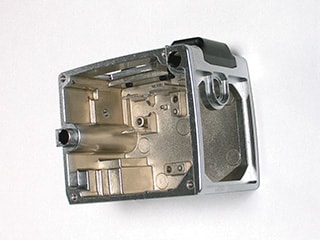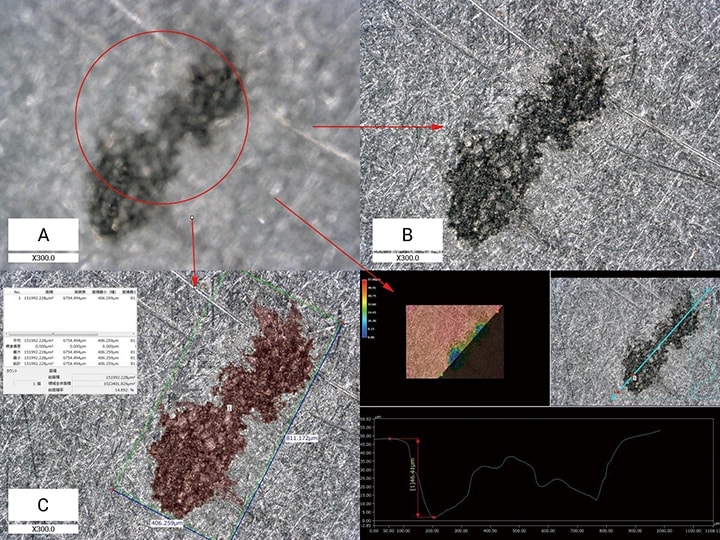 3D shape and profile measurement of a cast hole
The VHX Series 4K Digital Microscope enables the measurement of 3D shapes and profiles (2D cross-sectional shapes) using height information that could not be obtained with conventional microscopes. Even on an uneven die-cast surface, you can recognise cast holes, blow holes, and all other such minute surface shape changes thanks to the 3D display that fully focuses the entire target.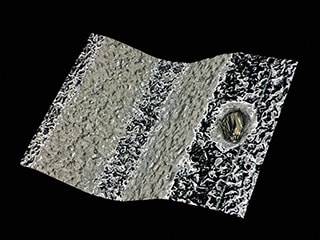 High-magnification image of a minute cast hole
Microscopes conventionally used for cast hole observation have problems such as insufficient magnification, resolution, and focus adjustment.
With the VHX Series 4K Digital Microscope, even minute cast holes can be captured clearly and at high magnification.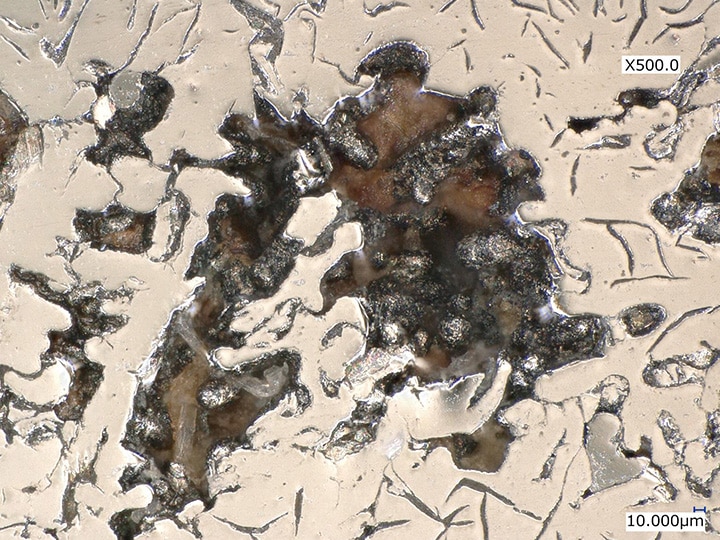 Handheld observation of a die-casting mould
Casting defects are not only caused by the temperature of molten metal and the pressure, but are also often caused by the state of the mould. In particular, defects such as rough cast surfaces are often caused by minute appearance defects inside moulds, so mould inspection is indispensable as well.
However, because casting moulds for automotive components are generally large, they cannot be cut out for observation and analysis using a microscope. In addition, non-destructive inspection using a conventional handheld microscope has the problem of insufficient resolution for minute cracks.
With the VHX Series 4K Digital Microscope, you can perform magnified observation of minute cracks and other such defective areas on moulds thanks to 4K images even while using a handheld lens.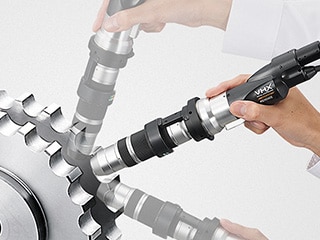 3D shape and profile measurement of die-casting mould cracking
The VHX Series 4K Digital Microscope enables 3D shape display and profile measurement, enabling efficient and quantitative inspection.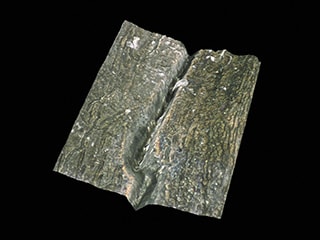 Automatic area measurement and quantitative evaluation of a cast surface
The VHX Series 4K Digital Microscope also serves as a powerful tool for 2D inspection of 3D cast surfaces. The automatic area measurement and counting functions enable quantitative evaluation of defective areas on cast surfaces with simple operation.
You can use these functions to evaluate defects, such as rough surfaces, quantitatively. A single VHX unit enables observation, measurement, and reporting to be completed with a single device.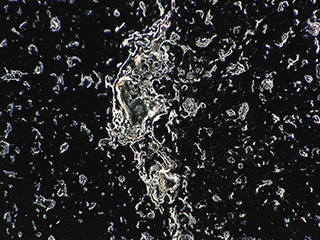 A Single Microscope that Changes Die-Casting Manufacturing Sites
The VHX Series high-definition 4K Digital Microscope can support not only clear magnified observation using high-resolution 4K images, but also automatic measurement and 2D/3D measurement that are not possible with conventional microscopes.
The VHX Series can be used to quickly identify causes of defects and prevent their reoccurrence thanks to its functions that rapidly provide detailed images and numeric data of cast holes, rough cast surfaces, and other defects at die-casting sites. With these functions, a single VHX Series microscope works as an indispensable tool to improve quality and yield rates amid the expanding breadth of applications for die-cast products and their increasing functional requirements.
For additional product info or inquiries, click the buttons below.