Other Industries
Foreign Particle Observation and Analysis
The contamination of food, medicine, and their packaging with foreign particles is a serious problem in the market. Quality assurance demands quick identification and analysis of foreign particles so the root cause can be determined and steps can be taken to prevent future occurrences.
This section introduces foreign particle analysis methods and application examples of KEYENCE's latest 4K digital microscope, which solves problems that arise when using conventional microscopes.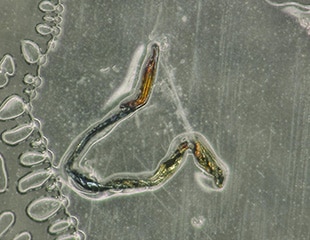 Problems Caused by Contamination With Foreign Particles and Increasing Response Speed
These days, consumers spread information instantly over social networking services. As such, the contamination of food, medicine, and similar products with foreign particles has been distinguished as a serious problem. Consequently, there has been a rise in consumer awareness and concern regarding the safety of food and medicine.
Also, food served regularly to many people at schools, hospitals, and similar facilities has especially severe requirements for safety and quality assurance. When a problem occurs, it is necessary to quickly clarify the location responsible for the problem, to use analysis to investigate the cause of the occurrence, and to implement countermeasures against reoccurrences of the problem.
In many cases, the analysis of foreign particles is outsourced to 3rd party companies. However, speed is of the utmost importance when responding to contamination, so there is an increasing trend of companies having their own analysis equipment in the food and medicine industries.
Foreign Particle Analysis Methods and Conventional Problems
Most often, foreign particles contaminating a product have a composition that differs from that of the product itself, so the common method of foreign particle analysis is composition analysis. However, consider the case of an insect contaminating a product that contains protein. It may not be possible to designate or identify this insect as a foreign particle just with composition analysis.
Therefore, foreign particle observation and analysis by way of an appearance inspection using a microscope is just as important as composition analysis. In other words, ensuring the accuracy of foreign particle analysis requires not just a composition analysis device but also an optical microscope that is capable of observing a microscopic outer appearance with high accuracy.
However, foreign particle observation and analysis using conventional optical microscopes poses the risk of overlooking foreign particles due to the following problems:
The image only focuses on a part of the target due to the foreign particle and product being three dimensional.
Foreign particles on reflective metals or plastic packaging films are difficult to observe due to reflected light.
Application Examples of Fast, Accurate Foreign Particle Analysis Using KEYENCE's Digital Microscope
KEYENCE has repeatedly improved its digital microscopes over the past 20 years using feedback from our customers. The result of this process is the VHX Series 4K Digital Microscope. Its high-resolution HR lens, 4K CMOS, proprietary observation system, and advanced image processing not only enable observation of microscopic shapes, but also allow for high-accuracy 2D and 3D measurements. It solves various problems that conventional optical microscopes encounter, while also enabling more advanced analysis.
This section introduces application examples of foreign particle analysis using the VHX Series.
A Multi-Function Microscope That Makes Foreign Particle Analysis More Advanced and Efficient
The VHX Series high-definition 4K Digital Microscope is also equipped with various other functions to aid in identifying foreign particles, such as a free-angle tilt stand, 2D and 3D measurement capabilities, and automatic particle identification and counting. Furthermore, it is even possible to output reports using observation images and measured values with user-specified templates. A single VHX Series microscope is all that is needed to seamlessly and quickly complete an entire series of work operations.
For additional product info or inquiries, click the buttons below.