Other Industries
Glass Defect Analysis and Fractography
Glass is used in various industries for a wide range of applications; including windows, smartphones, optical lenses, PCBs, fibres, and other components that are invisible to most people in their daily lives.
Glass has low elasticity and fractures easily, so quality inspections of glass products are performed frequently and with great care. However, the observation of small scratches on highly glossy surfaces requires highly talented inspectors and advanced inspection devices.
This section introduces the basic knowledge of glass fractography and examples of using the VHX Series, KEYENCE's latest 4K Digital Microscope, to solve the problems in defect analysis.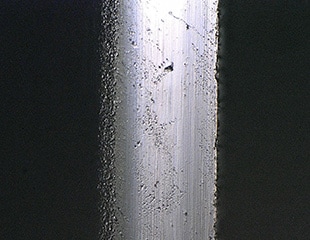 Glass Fractography
Compared to materials such as steel and aluminium, glass breaks without deforming under the application of tensile force greater than or equal to its mechanical strength. This phenomenon occurs because glass is a brittle material with poor toughness and elasticity. It does not deform under the application of force; nearly all of the applied force is used in fracturing the glass.
The same can be said for scratches caused by collisions. Glass does not dent or deform, so it scratches easily, and such scratches can quickly lead to the glass fracturing. Even for glass that has not been subjected to collisions or friction and appears free of scratches, magnified observation can reveal countless subtle scratches (Griffith cracks), which are said to reduce the physical strength of glass to approximately 1/100 of its theoretical strength.
On the other hand, because glass fractures with almost no deformation, the cause of the fracture remains viewable on the surface. The strength, speed, and direction of the collision are expressed by mirror, mist, and hackle patterns. The shape of the patterns, known as rib marks, expresses the speed and direction with which the fracture progressed.
Glass fractography relies on accurately capturing the status of the fracture surface and observing the orientation, size, and number of patterns listed above in order to investigate the fracture situation. Herein lies the reason why the observation of fracture surfaces using a highly accurate optical or digital microscope is vital to the defect analysis of glass products.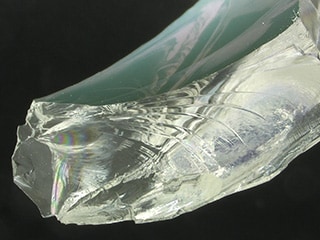 Examples of Defect Analysis of Glass Products Using a 4K Digital Microscope
Glass is used in a wide variety of products and components. This section uses glass fracture surface, scratch, and end face polishing status observation examples to introduce defect analysis of glass products. It also introduces examples of defect analysis using a 4K digital microscope for glass products that most people do not see during everyday life. Examples of such products include glass PCBs (for which patterns and marks are observed) and glass fibres.
One Microscope Supports Everything From Observation and Analysis to Report Generation
The VHX Series high-definition 4K Digital Microscope offers excellent efficiency compared to conventional optical and digital microscopes and makes it possible to eliminate human errors and ensure accurate glass defect analysis.
The high-definition 4K images generated by the cutting-edge optical image processing and automation techniques allow for automatic area measurement and counting on glass products with simple operation, contributing to producing quick, sophisticated analysis results.
The captured or measured data can be easily output as a report with a fixed format using the report function. This can be useful for not only quality assurance, but also for identifying any problem that may arise and subsequent process improvements.
Equipped with many other advanced functions, the VHX Series can be a powerful partner for defect analysis of glass products. For additional product info or inquiries, click the buttons below.