Other Industries
Imaging Using UV Lights (Black Lights)
UV lights are also known as black lights and emit ultraviolet radiation of which only a small amount can be seen by our eyes.
This section introduces examples of image capturing and analysis with our digital microscope using UV lights.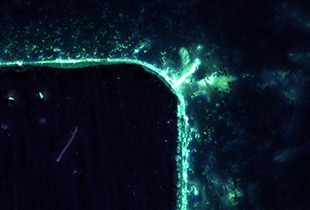 UV Lights and Fluorescence
UV lights emit ultraviolet radiation and are used in fluorescence observation.
Fluorescence refers to the property of absorbing light of a certain wavelength and emitting light with a longer wavelength.
Examples of Image Capturing with a Digital Microscope Using a UV Light
UV lights are sometimes used for indoor visual effects, but with KEYENCE's VHX Series 4K Digital Microscope, they are used for a variety of purposes including observation of diverse fluorescent materials, mineralogy, medical jurisprudence (forensics), medicine, and biology.
Generally, fluorescence microscopes are used in fluorescence observation in medicine and biology, however, UV lights can be used for observation in industrial applications.