Illumination ControllerPower and control of LED light sources.
CA-DC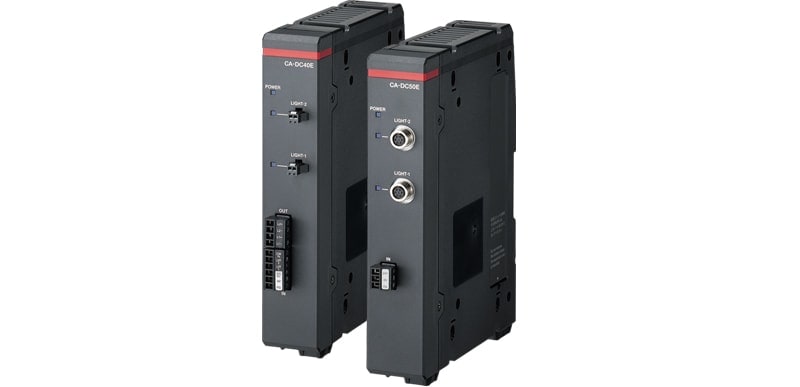 CA-DC40E/DC50E (For XG-X, CV-X400/X300), CA-DC60E (For XG-X2000, CV-X400)
CA-DC21E, CA-DC30E (For XG, CV-X200/X100)
Minimal wiring

The LED light controllers can be connected directly to compatible vision systems with a minimal amount of wiring. The controllers enable direct illumination control and light strobing with image capture trigger inputs, without the need for a PLC. Up to 8 light expansion units * can be connected to a single vision system, allowing up to 16 lights to be controlled with ease.
CA-DC40E. Up to 2 units each of CA-DC50E/DC60E out 8 total units can be installed.
Problems with conventional wired systems
To control 4 light controllers, 32 I/O units and 32 wires are required, which means more man-hours and increased costs.
Light controller volume needs to be synchronised with the target type switching control for the image sensor.
Because volume is specified for each light, having multiple types increases the work needed to set up control.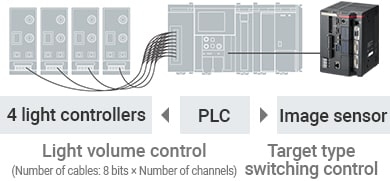 Strobe lighting
LED illumination is the norm for machine vision due to its flexibility and lifetime characteristics. However due to complex wiring and sequencing the fast switching performance of LED's may not be maximised and the light is left continuously on. The CA-DC Series automatically enables strobing of light sources by default without the need for wiring or complex programming. This results in a significantly longer service life.
Continuous lighting (wasted ON time is included)

Strobe lighting

The ON time is reduced significantly while the service life becomes ten times longer.