Telecentric Macro LensThe optimal telecentric macro lens for VGA cameras
CA-LM

This is the optimal telecentric macro lens for VGA cameras in a compact and lightweight model.
Coaxial and ring light options
The coaxial illumination option enables LED spot or fibre lighting to be used with the CA-LM Series. The ring light attachment means standard illumination can be easily attached and used without compromising on space.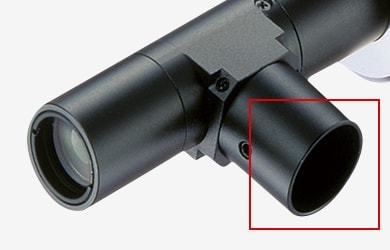 Reduction in measurement error
The CA-LM Series uses a group of front telecentric lenses to maintain a compact size and high performance. In spite of the small lens, the telecentric system maintains the target size regardless of vertical movement of the focal point. This is due to the targets principal ray being in parallel with the front lens optical axis resulting in little to no measurement error.
Normal lens

Telecentric lens on target side

Variable focal adjustment for delicate adjustment
The CA-LM Series is equipped with a variable focal adjustment slider that enables fine adjustment of the back lens focal distance error relative to the camera. Enabling clean and clear image capture.