Clamp-on Flow Sensor
FD-Q series
Clamp-on Flow Sensor
FD-Q series
No Pipe Modification Necessary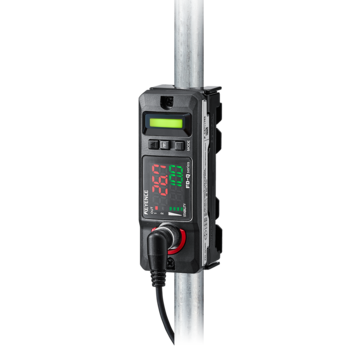 The FD-Q Series simply clamps-on to the pipe requiring no pipe modification and detects all sorts of liquid flow.
Features
Mounting and Integration
The FD-Q can be mounted in 60 seconds without any pipe modification. The unit clamps on to the outside of a pipe with 6 standard screws and can even be done without shutting the machine down.
Liquids and Pipes
The FD-Q series can detect virtually any type of liquid. This includes the flow of water (including deionised), oils, chemicals, consumer products, etc. This detection is possible through both metal and resin pipes.
Benefits of Clamp-on
Contamination, pressure loss, leaks, continual maintenance and machine downtime are all risks associated with conventional flow sensors that are avoided with the FD-Q series.
Remote Display with Added Functionality
In certain mounting situations, it can be challenging or even impossible to read the FD-Q's display. By pairing the FD-Q with a MU-N controller, a separate display can be utilised, as well as increased functionality, in an easily accessible location.