Photoelectric Sensors
Laser sensors are used for detecting presence based on position or light intensity. Benefits include long range, a visible beam spot, and precise detection. These devices have a small footprint and have options to withstand the most demanding environments.
Products Lineup : Photoelectric Sensors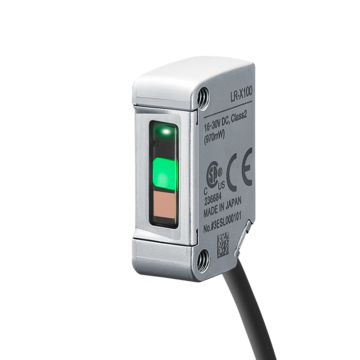 The LR-X Series is a remarkably small laser sensor capable of detecting targets based on position and is unaffected by colour, surface finish, or shape. Impressive durability is achieved with its food-grade stainles steel housing (SUS316L), high IP ratings, and guarded cable. Position changes as small as 0.5 mm are possible, along with automatic and real-time intensity adjustment to ensure stable detection on any target.
Features
Compact & Robust Design for Use Anywhere
Whether building a new machine or retrofitting an older one, the ultra-compact size of the LR-X Series makes it easy to integrate into any space. The metal housing and rugged design also ensure it will last in any environment.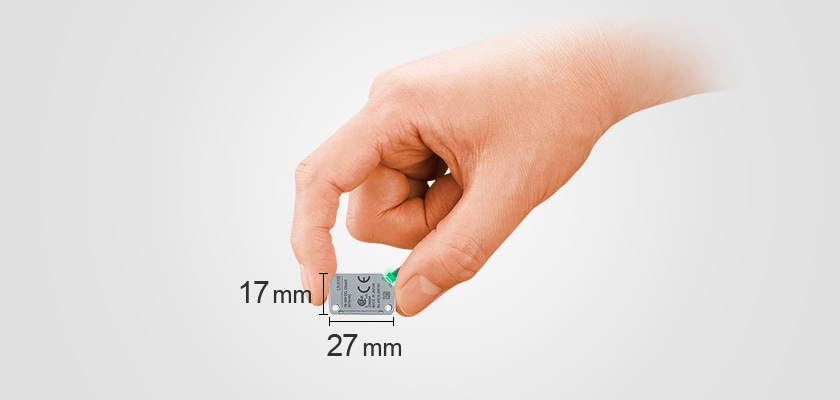 Stable Detection of Any Target
Minimum Detectable Position Change: 0.5 mm
The LR-X Series detects targets based on position, not light intensity. This allows for stable detection of targets regardless of colour, surface finish, or shape. This allows the LR-X Series to be used in a wide variety of applications, including those with small position changes.
Shiny Metals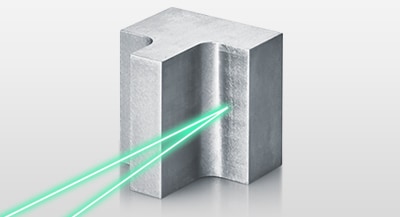 Rounded Surfaces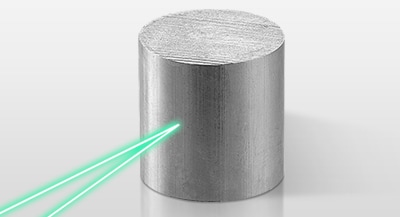 Black/Dark Targets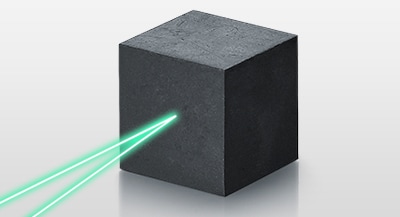 Varied Colours
Angled Targets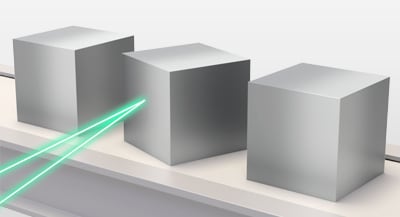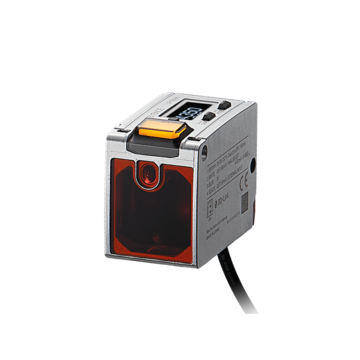 The LR-T Series of reflective sensors represents a seamless fusion of innovative technology and robust functionality.
Features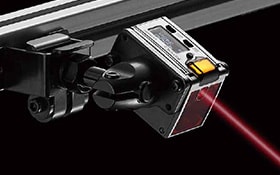 Superior Detection Capabilities
The LR-T is designed to detect at long ranges while remaining highly stable. This is achieved due to the HS2 technology used, a combination of Time of Flight detection and a custom integrated circuit. Additionally, the interference prevention and Datum Function allow users to maximize this sensors capability in any situation.
Easy to Use
The LR-T Series is simple to install and calibrate. Flexible mounting options, a visible beam spot, push button teach, and an easy to read display allow for quick setup. Even at long distances, constant feedback is provided with the LR-T's highly visible status indicator.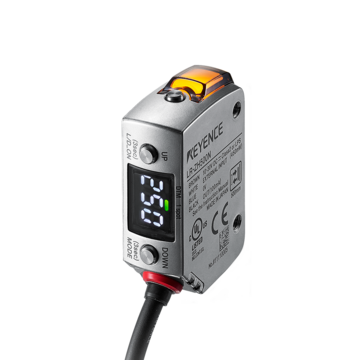 Detection is often difficult with reflective sensors for a variety of reasons, including target colour, material, surface finish, and environment. In order to solve these issues, the stability of a CMOS laser has been combined with the versatility of a self-contained sensor in a heavy duty metal body to create a more stable and user friendly general purpose sensor.
Features
Best Detection Ability in its Class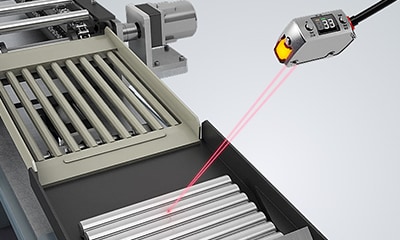 The LR-Z Series provides highly stable detection and a wide array of uses. By using CMOS technology and a Light Power Control Function, the LR-Z's detection ability is not affected by target colour, surface finish, or shape the way a conventional sensor can be.
Durable & Long Life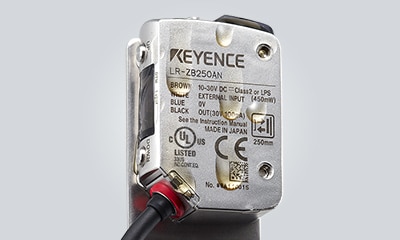 The IP68/69K rating means the LR-Z is ready for the roughest of factory environments. Wash-down, oil spray, and many corrosives are no match for the stainless steel body. Additionally, physical impact or even overtightening are not a concern because of the highly durable design.
Simplified Operation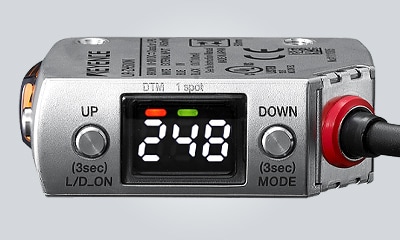 Simple setup and easy operation are at the core of the LR-Z's design. With a simple 1-touch teach, calibrating this sensor is straightforward and quick. A highly visible indicator and a 7-segment display make this sensor very easy to use.
New feature U.C.D. Function

Distinguishing a Target From a Background Using the Distance and Received Light
The sensor first registers the distance to the background and the received light, which are used as reference, and then detects the target by sensing that the distance or received light differs from the registered reference when a target comes into the detection area. With the background, stable detection of target is ensured even if the target is a complex shaped object, has changes in colour and surface condition, or is a thin object with a small height difference.
1

Difference in distance

2

Difference in received light
High-power, dual LED-type photoelectric sensors for improved performance and ease of use.
Features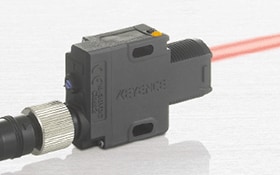 Complete Lineup of Self-Contained Photoeyes
Reflective, Retro-Reflective and Thrubeam (breakbeam) types are all available in the PZ-G Series. These sensors have the power to blast over 130 ft and the sensitivity to detect even clear targets.
Easy to Use
Simple trimpot calibration and light-on/dark-on capabilities are built into each PZ-G. Additional features like built-in alignment indicators make the PZ-G series very easy to use.
Automatic calibration type. Virtually eliminates all detection and stability problems inherent with conventional photoelectric sensors.
High environmental resistance & cable extension capabilities provide increased installation versatility
Features
Sensitivity Setup and Display Standardisation at the Touch of a Button
Easy configuration
By standardising the received light intensity display of multiple sensors to "100" and "0", it is easy to tell where an error has occurred because the sensor will not return to the original display value of "100" or "0".
The sensor where the error occurred is identifiable at a glance.
Electric Wire Cable Allows for Rejoining
Because the sensor head cable is a simple power cable, it can be extended to the desired length. By soldering or using a metal connector, it can be extended to a maximum of 10 m (32.81').
Joining fibreoptic sensors
The light intensity is attenuated by approximately 90% at the joining surface.
With the PS-NEO, no light attenuation occurs even when cables are rejoined.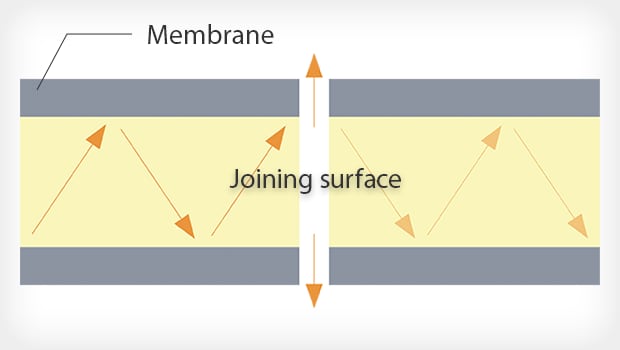 The new PX Series heavy-duty industrial photoelectric sensors. Rugged industrial sensors designed for use in harsh environments.
Features
Water-resistant and Oil-resistant IP68G/IP69K Structure
Outstanding resistance to harsh environments thanks to the new "vacuum packed" structure
The sensing heads are completely backfilled under vacuum with transparent epoxy resin. This ensures maximum adhesion with the cable and lens, and eliminates the risk of liquid penetration.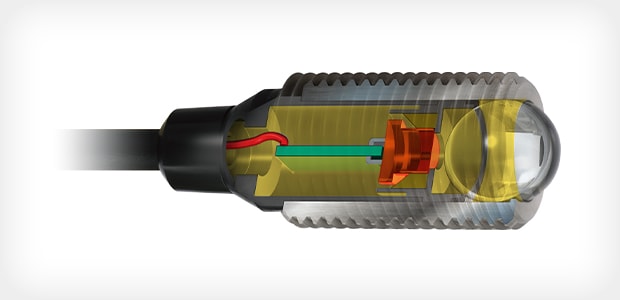 Impressive Thrubeam Strength
High-power MEGA mode
Using the high power MEGA mode, the PX family can operate reliably up to 40 m. In addition to long distance detection, the high power of the PX easily penetrates oil, grease, dust, dirt and other obstructions.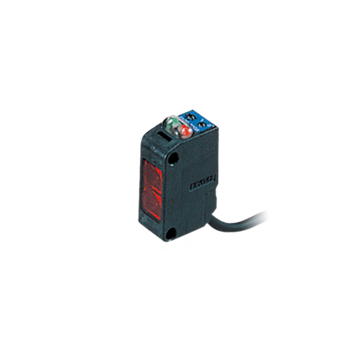 The PZ2 series micro-optical sensors with built-in amplifiers are small, waterproof, and have the ability to detect transparent objects.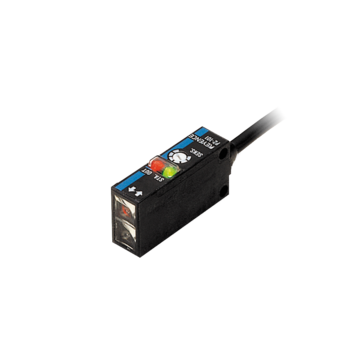 Self-contained, Long-distance, Small-spot Photoelectric Sensor with visible light
Compact, More space-saving Amplifier-in-cable Photoelectric Sensor
Quick Response Sensor detecting φ0.5 mm
Low cost type of expandable area sensor
Products Lineup : Colour Sensors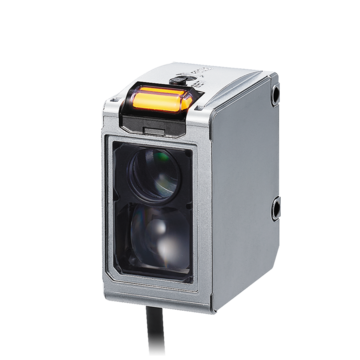 This Full-Spectrum sensor features unmatched detecting capabilities that allows it to complete the simplest to the most complex applications with ease.
Features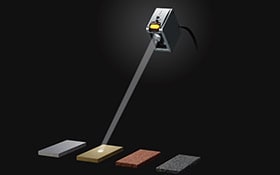 Innovative Technology
The unique technology in the LR-W series allows it to analyse the full light spectrum. This series can detect everything from surface finish differences to colour changes that are hard to see with the naked eye.
Flexibility
The LR-W features a 500 mm range, an adjustable beam spot, and high enclosure ratings. This allows the LR-W to solve more applications than any conventional photoelectric sensor.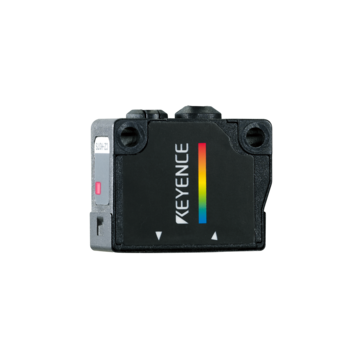 Simple one-touch calibration with a dual digital display and ability to store up to 8 colours. Colour, lustre and fluorescent/UV sensing heads all connect to CZ-V20 Series amplifier.
Features
Detect only specified differences in appearance
The CZ-V20 Series uses a completely different detection principle than other photoelectric sensors. This allows for incredibly stable, high-accuracy colour confirmation and detection of lustre, fluorescence/UV. Each of which are often unstable with conventional photoelectric sensors.
General-purpose photoelectric sensors
False-detection of areas that are not red
Detection of red areas only
Detect slight colour differences not easily recognised
The CZ-V20 Series enables high-accuracy colour differentiation with the ability to save up to 8 targets.
Colour difference detected
No colour difference detected