Applications
Static elimination in the coating process of bumpers
Static elimination of films
Static elimination of slitters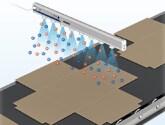 Defect prevention of adhesive painting on cardboard
Features
High-speed static elimination with no air flow
I.R.G. structure for air flow-free high-speed static electricity elimination
Taking advantage of a dedicated built-in booster for static electricity elimination over a wider range and at ultra-high speeds
Newly developed booster for ultra-high-speed static elimination over a wide angle
The new aero body was developed with thorough fluid analysis to minimize air resistance. With the world's first wide-angle booster, the SJ-H Series achieves a 90-degree-wide static elimination angle by utilizing the Coanda effect with the air flowing from the booster. By attaching the straight air booster with extraordinary ion transport capabilities, an unparalleled static elimination speed is achieved. This function can ensure excellent static elimination capacities at ultra-long operating distances for highly charged objects.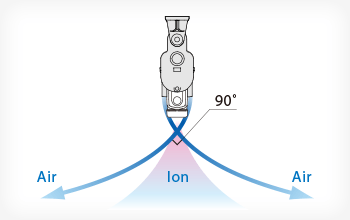 With wide-angle booster attached (side view)
With straight air booster attached (side view)
RELATED PRODUCTS
SJ-F2000/5000 series


High-speed, High-precision, Wide-area Static Elimination Blower

Eliminate static electricity on a target area of 1000 mm at an installation distance of 200 to 1000 mm. With no need for an air supply, the SJ-F is suitable for desktop use.

SJ-M series


High-Performance Micro Static Eliminator

Eliminate static electricity for a target area of 200 mm at an installation distance of up to 200 mm. The SJ-M Series boasts an ultra-compact ⌀10 mm static electricity elimination head suitable for installations within equipment or in narrow spaces.